ROAD TRANSPORT SOLUTIONS
We can put you in touch with reliable transporters who we work with regularly, such as: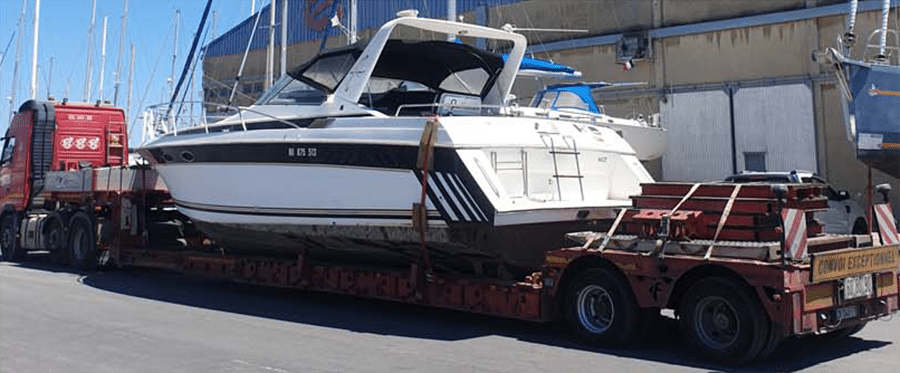 TAXES, VAT, CUSTOMS, FLAG CERTIFICATES, AND OTHER ADMINISTRATION
Do you have questions about the paperwork and legalities involved in the purchase, sale, or travel of your yacht? Get the right information through our network of VAT and Tax experts, and ensure that everything is ship-shape for the coming season.
Our brokerage service also provides this service during the sale of your yacht, and in some conditions, we can even purchase your yacht directly – contact us if you need information about our brokerage service.
SEEKING A PROFESSIONAL SKIPPER TO TRANSPORT YOUR BOAT?
There are numerous solutions available that match owners with qualified skippers, such as the Capt'n Boat platform. By simply creating a profile, you can find hundreds of qualified crew to sail your yacht wherever she needs to be.
On Capt'n Boat you can:
Find up to date profiles of professional crew which include detailed qualifications.
Hire sailors easily and quikcly thanks to an exclusive maritime employment solution that allows you to delegate all compulsory administrative procedures.
Benefit from a multi-risk & damage insurance to guarantee your boat against potential damage when it is moved by a Capt'n Boat skipper.


NEED TO HIRE A CAR? EUROPCAR DELIVERS DIRECTLY TO PORT NAVY SERVICE!
Take the headache out of car hiring with Europcar. Your chosen vehicle can be made available at the port directly, and can also be returned at Port Navy Service. Simple, and easy.
NEED TO OP UP YOUR GASOLINE OR DIESEL?
The Achenay company delivers fuel directly to your boat via tanker lorry.
Contact: +33 (0)4 42 06 27 72


ARE YOU PASSING THROUGH THE RHÔNE?
Lock opening hours: every day from 5am to 9pm.
Boaters are locked in at the same time as a commercial boat if conditions permit.
Or, at the following times:
Opening on the sea side: 6am, 8.15am, 11.50am, 4.15pm, 6.45pm.
Closing on the Rhone side: 6.10am, 8.30am, 12.05pm, 4.30pm, 7pm.
Bridge lifting: 6.20am, 8.45am, 12.20pm, 4.45pm, 7.15pm.
Closing time: 6.30am, 8.55am, 12.40pm, 4.55pm, 7.25pm.
Telephone: +33 (0)4 42 86 02 04
Practical guide to navigating the Rhône
To navigate on the Rhône, remember to buy your VNF vignette which grants you access to all French inland waterways