Lifting, launching, and dry berthing – our professional passion
Whatever your nautical preferences, from sailing and racing monohulls to catamarans or trimarans, and from blue-water motor yachts and trawlers to barges or canalboats, Port Navy Service has the equipment and the expertise get the job done. The 40 000 successful lifting and transport operations carried out in our 30 years of operation stand as proof – our attention to detail and savoir-faire are second to none.
We pride ourselves on a culture of collaboration, working with our clients to find solutions to challenges both large and small, and remembering that despite our considerable experience – each yacht is an individual – and should be treated as such.
Powerful, modern equipment.
Ali operations on our 50 and 120-tonne travelifts include protective sleeves for the straps to protect the hull of your boat. Lifting points are studied by our yard team in advance to ensure safe and delicate lifting and transportation, whether for wood, fiberglass, aluminium, or steel-hulled yachts.
20 years of expertise in the lifting, launching, and dry berthing of catamaran and trimaran yachts
Attuned to the growing multihull segment, and aided by the vast 22-hectares of dry berthing space at our site, we invested in specialized multihull infrastructure during the 1990s, 2000s, and 2010's. Today, this has earned us the moniker "cataland" (catamaran-land), which we carry with pride.
We provide dedicated resources for multihull yachts, including:
A 13 metre-wide slipway, reserved exclusively for multihull boats,
Semi-submersible 15 and 25-tonne hydraulic trailers specifically designed for lifting and launching catamarans.
Extra-large (1 metre by 50 centimetres) foam pads on trailers, ensuring reduced stress on the structure of your catamaran. Their positioning is thought out in advance according to the model of your yacht.
With over 10 000 catamarans and trimarans welcomed to our marina to date, Port Navy Service has truly become Cataland.
Mast stepping – mastered
Port Navy Service is uniquely located near the mouth of the Rhône, acting as a gateway to and from the Mediterranean for Northern Europe, through a vast network of inland waterways stretching from France and Switzerland to Germany, Belgium, the Netherlands and further afield.
Every year, we assist countless sailors requiring mast stepping or unstepping on their journeys north through Europe, or south into the Mediterranean. Equipped and experienced in this most delicate of operations, we offer a mast handling and storage service, and the ability to crane masts up to 40m tall. We also maintain a network of specialized transportation companies who can assist with the overland transport of your spars and rigging.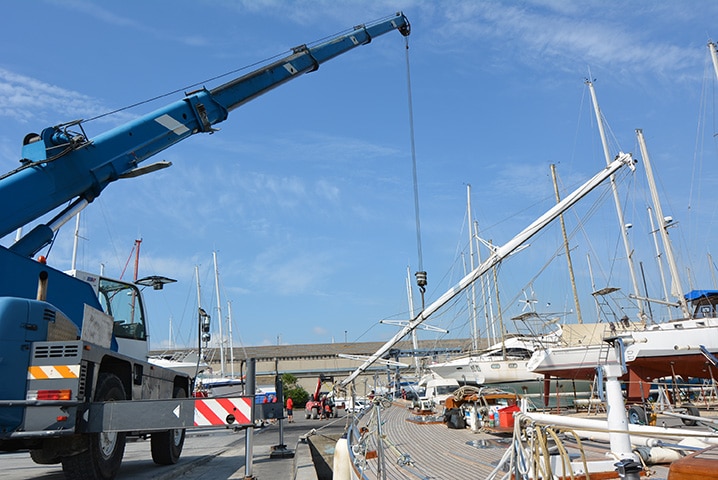 Mast stepping checklist
Ensure that all rigging screws are working
Check halyards and shrouds (no crossings)
Prepare new pins
Note: Mast stepping can be done with ail masthead instruments in place
Mast unstepping checklist
Ensure all rigging screws are working
Remove the boom
Remove any shrouds not required to hold the mast
Disconnect electricity from the mast
Provide a line to tie all cables at the bottom of the mast
For any type of mast handling operation, and for your comfort, please make an appointment with the harbour master's office at least 4-5 days before your requested mast stepping/unstopping date.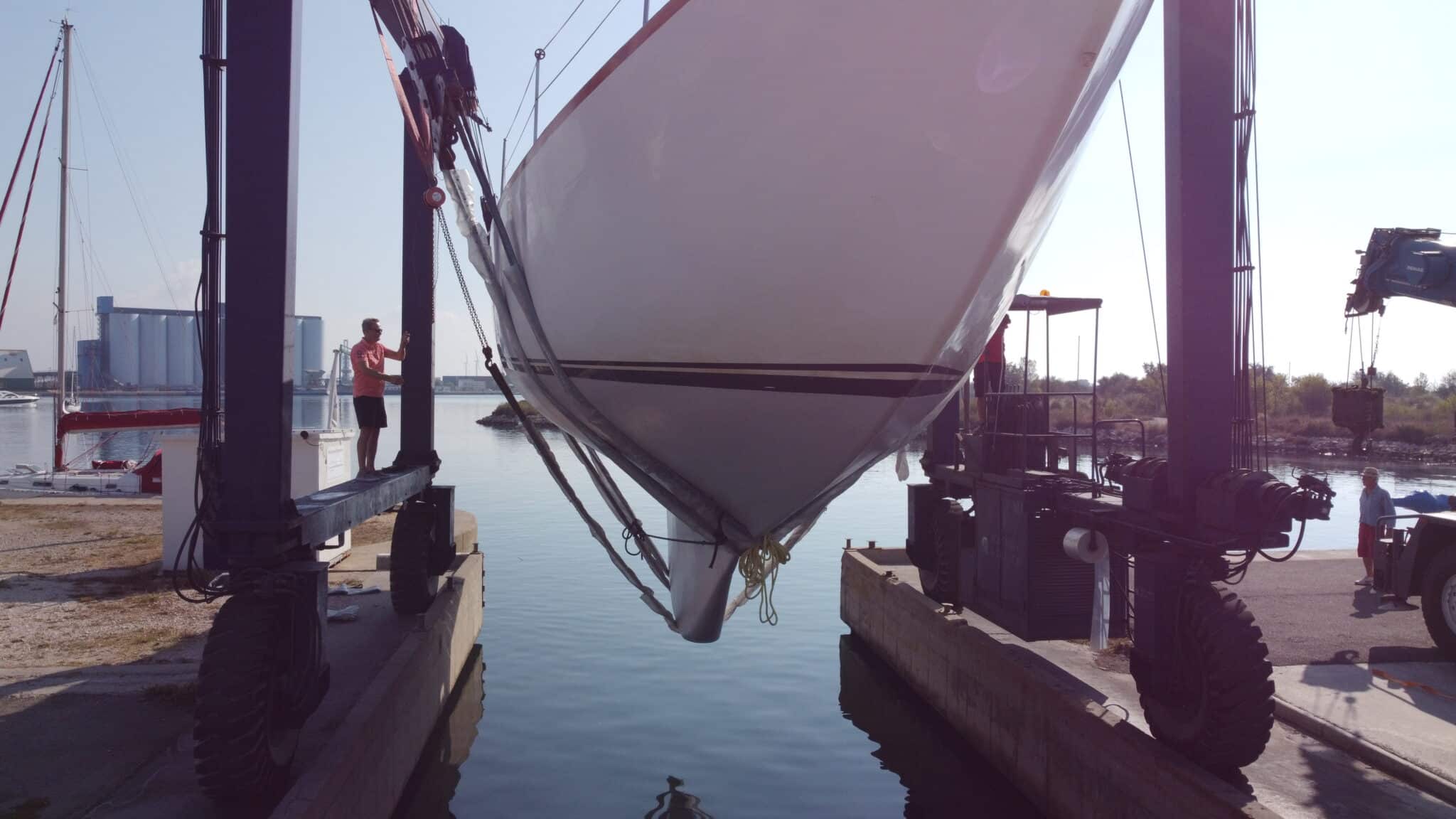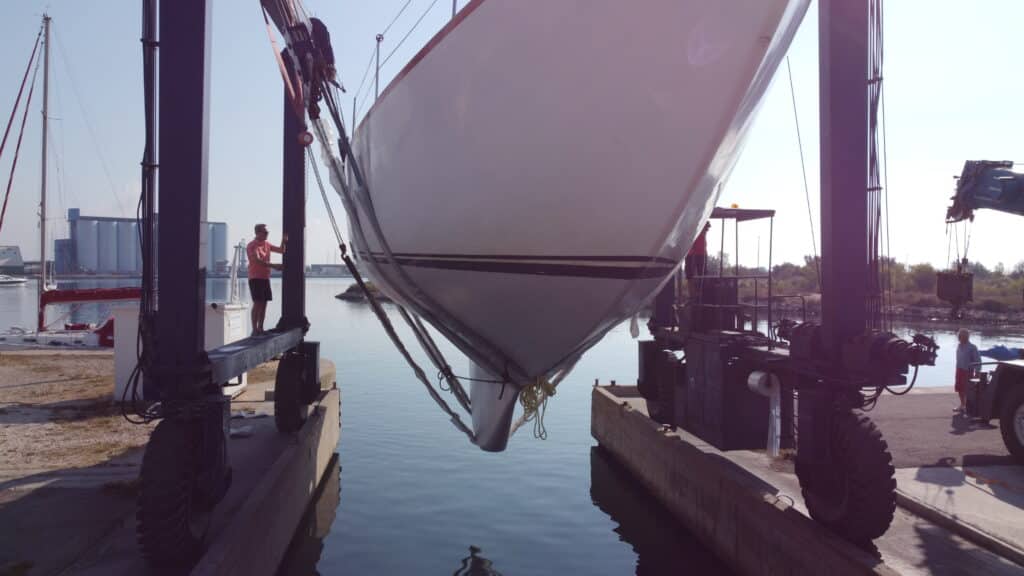 YOU WANT TO GET YOUR BOAT OUT OF WATER?
We are open by phone from Monday to Saturday from 8 a.m. to 12 p.m. and from 2 p.m. to 6 p.m.
We are also open by email, and we are committed to answering you as soon as possible.
To receive a personalized quote, do not forget to send us as much information as possible about your boat. (Overall length, weight, year, type of construction, possible works…)