With over 1 500 storage spaces ashore, our dry-berthing capacity is the largest in Europe. Port Navy Service boasts a capacity of 22 hectares, including 15 000 m2 of hangar space. We offer our clients more than 1 500 outdoor berths and 50 indoor berths, ensuring year-round availability to welcome your yacht.
The Storage Destination of Choice for Large & Multihull Yachts
The size of our facility, paired with modern 25, 50 and 120-tonne lifts give us a unique ability to welcome larger yachts, including catamaran and trimaran designs, which due to their dimensions may have difficulty finding dry berthing space elsewhere in the Mediterranean.
ln fact, our popularity among multihull owners has earned us the moniker "Cataland", and we intend to live up to the name. Learn more about our dedicated multihull resources her, and see why Port Navy Service is the dry berthing and wintering destination of choice for multihull owners.
Safe & Secure
At Port Navy Service, we take the security of your yacht seriously. Our premises are fully-fenced, and under 24/7 video surveillance. Site access is controlled via an electronic badge system, and full­ time caretakers reside within the property.
Various services are included with storage of your boat
craddles with extra-wide pads to limit the forces on the hull, chocks, and acrow-props as needed
Potable water & electricity (64A, 32A and 16 A, 220 V and 380 V) from terminals throughout the boatyard
3 separate toilet & shower buildings
A visitors' dock (possibility to tie up awaiting lifting, or after launching)
Free WiFi throughout the boatyard
State-of-the-art recycling area for both regular & harmful waste (antifouling, oil, etc.), reflecting our dedication to cleaner seas
A mast storage/maintenance area
A covered car park for your vehicle
Self-service ladders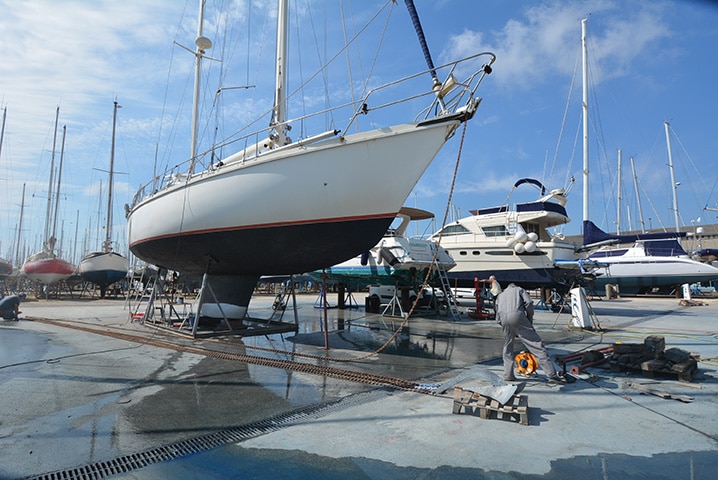 Additional Paid Services
380V high-pressure washers
24h Smart Laundry/Dryer facilities (10kg capacity, online-monitoring)
Private locked garages for vehicle and material storage