For lifting out or hauling out your boat in complete safety
Lifting out or hauling out a boat is a precise operation during which certain safety rules and conditions need to be complied with.
How does a lift-out or a haul-out take place ?
You have already made an appointment with our team and a time has been set.
You go to the lifting and launching dock or to the slipway as indicated by the harbourmaster's office.
You fit 4 mooring lines, fore and aft, port and starboard side, and your fenders. Your boat needs to be centred in the lifting and launching dock when it is lifted out using the Travel Lift.
Once your boat is moored up, at the time of the appointment, you indicate to the handling team the correct positioning of the slings or pads to avoid damaging the prop shaft, the speed / loch sensor, cooling water intake, and any other protrusions that are submerged and not immediately visible.
For safety reasons, all of the crew should disembark before lifting begins. It is time to take your camera out to capture the moment for posterity.
Your boat is then lifted ashore and installed at its location.
Blocking the boat is then handled by our team, with gear suited to the shape and weight of your boat. The pads and chocks are positioned to take account of the structure of your boat on the strongest portions of its framework (floor plates, frames, and bulkheads).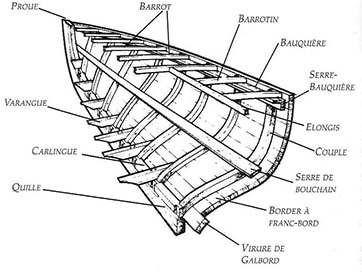 Once blocking is finished, you can climb onto your boat by borrowing one of our ladders, which should be attached/secured to avoid it from slipping while you are using it. It should be returned to the ladder storage racks when you leave your boat.
If it was not possible to register with the harbourmaster's office when you booked, you should take your boat's registration certificate, insurance documents, and a photocopy of your ID card or passport to the office to complete your file.